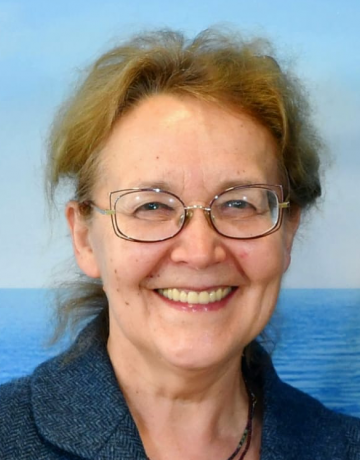 Tatiana Filippova
Leading scientific officer, Institute of Developmental Physiology of the Russian Academy of Education, Russia
Tatyana Andreevna Filippova has been working at the Institute of Developmental Physiology of the Russian Academy of Education since 1979 after graduating from the Faculty of Biology of the Pedagogical Institute. In 1989 she defended her PhD thesis on the topic "Formation of relationships in the hypothalamic-pituitary-thyroid system during puberty."

Since 1995, Tatyana Andreevna has been combining scientific work with her pedagogical activities: she conducts developmental classes with preschoolers (5-7 years old) in the "Khoroshevo" house of creativity for children and youth in the north-western district of Moscow. Over the past years, about 800 children have been successfully prepared for school.

Since 1997, Tatyana Andreevna, in collaboration with Maryana Mikhailovna Bezrukikh, has been working on the creation of educational and methodological kits - educational tasks for working with children of older preschool age:
- EMC "Steps to School" of the publishing house "Drofa" includes 13 workbooks for children, intended for the development of skills important for school: visual perception, hand-eye coordination, finely coordinated movements, speech, memory, thinking. Currently, new workbooks are being drafted: "Steps to Reading" and "Chrestomathies of literary works studied in the course."
- An alphabet book with 4 workbooks and a series of brochures "Little Encyclopedia for Preschoolers", including 8 topics: "Pets", "Vegetables and Fruits", "Professions", "Transport", "Time. Days of the week. Seasons"," "Time. The clock", "Clothes and Hats", "Holidays".

Since 1999, the educational programme "Conversation about proper nutrition" has been successfully implemented in 27 regions of Russia. It consists of 3 parts: for children 6-8 years old ("A conversation about proper nutrition"), for children 9-11 years old ("Two weeks in a health camp") and for children 12-14 years old ("The formula of proper nutrition"). One of the authors of this program is Tatiana Andreevna.

In 2002, Tatyana Andreevna, in collaboration with Maryana Mikhailovna Bezrukikh and Alexandra Germanovna Makeeva, developed a programme of pedagogical drug prevention for elementary school students - "All colours except black": (for the 2nd grade - "Learning to understand myself"; for the 3rd grade - "I am learning to understand others"; for the 4th grade - "I am learning to communicate"; for the 5th grade - "I am learning about my abilities"; for the 6th grade - "I am learning to control myself and cooperate with people").

Over the past 10 years, Tatyana Andreevna has held more than 300 author's seminars in 54 regions of Russia. Tatyana Andreevna is a permanent active participant in the annual school-seminar on developmental physiology, held in March-April for teachers, psychologists, and employees of education departments at the Institute of Developmental Physiology of the Russian Academy of Education. Participants of the school-seminar have the opportunity not only to listen to the author's seminar but also to attend classes conducted with children.

From 2003 to the present, she has been managing the Consultative Center for Diagnostics of the Development of Children, aimed at helping parents with children suffering from various problems of growth, development and learning disabilities.

Tatyana Filippova conducts scientific and methodological work: a total of 70 publications have been printed, including 25 scientific and 45 educational-methodical. She has frequently reported on the results of her scientific work at scientific conferences and congresses: congresses of physiologists of the USSR, a congress of physiologists of the CIS.
Выступления спикера
7 December, 10:40 - 11:20