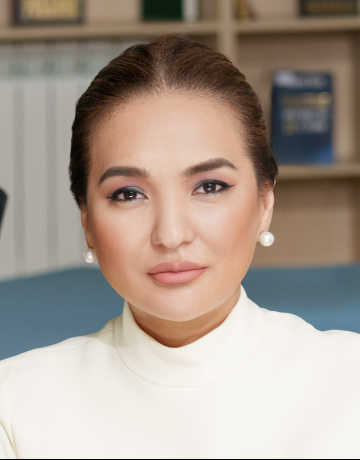 Asel Tasmagambetova
President of Sabi Charitable Foundation, Founder of Shokan Walikhanov School, Kazakhstan
Founder of the private school named after Shoqan Walikhanov, ecologist, founder of the Central Asian Institute for Ecological Research.

Aselle Tasmagambetova is the author of 10 major coherent programs in the field of charity, medicine, education, youth sports, support for young entrepreneurs, as well as assistance to people with disabilities.

During the Saby Foundation's 20 years of work under the leadership of Aselle Tasmagambetova, special attention has been paid to educational projects.

Thus, in 2017, together with her spouse Kenes Rakishev and thanks to the joint effort of the Foundation, Aselle opened a school school-gymnasium No. 174 in the Nauryzbay district of Almaty, which was eventually donated to the city. And in 2020, a private school named after Shoqan Walikhanov was opened, which in 2021 was recognized as the first school in the CIS that complies with the international environmental LEED standard.

The school is designed for 800 students from grades 1 to 11, instruction is provided in Kazakh and Russian languages. The institution combines innovative infrastructure and educational content that meets the best international standards.

As part of her professional environmental activity, Aselle Tasmagambetova is the organizer of a series of international expeditions to study the population of the Caspian seal. These data became the reason for the inclusion of the animal in the Red Book of Kazakhstan in 2020.

Aselle Tasmagambetova has 6 academic publications and 1 utility model.
Performances of the speaker
23 November, 12:00 - 12:50
Hotel Kazakhstan, Grand Ballroom