EDCRUNCH 2021
CONFERENCE FOR THOSE WHO TEACH AND LEARN
Designing new learning experience
| | |
| --- | --- |
| Almaty and online | December 7–8, 2021 |
| Moscow and online | December 9–10, 2021 |
For seven years in a row Europe's largest conference on new education technologies
gathers the brightest stars in education and EdTech industry from all over the world.
WHAT'S NEW AT

EDCRUNCH 2021
Last year EdCrunch was held online for the first time and brought together
14 000 participants and 500 speakers from 60 countries on its interactive platform.
14 000

participants

500

speakers

60

countries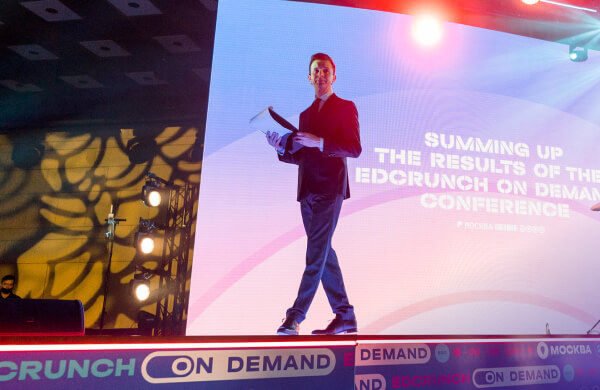 NEW FORMAT — EDCRUNCH+
EdCrunch 2021 is going even more global. For the first time in eight years, the conference will be held on three venues:
Russia, Skolkovo
Almaty, Kazakhstan
Online-platform
EdCrunch will be hosted by two EdTech clusters: "Skolkovo" innovation centre and the city of Almaty — the center of business activity in Kazakhstan.
Skolkovo
Conference location — Russia
"Skolkovo" innovation center is one of the most famous global science parks — a dream for many digital enthusiasts.
Guests of the Innovation Center will have a wonderful opportunity to experience the atmosphere in which hundreds of startups known far beyond Russia were born, and will get a chance to meet their creators in person.
Being one of the most promising global EdTech clusters, Skolkovo is an ideal platform to experience sharing, networking and learning about new educational technologies and products.
ALMATY
Conference location — Kazakhstan
Almaty is officially one of the most promising centers of digital and creative technology development — embrace this opportunity to personally witness the potential of this city, network with the brightest EdTech community members, open new markets and opportunities.
Kazakhstan is known as the bridge between Europe and Asia — get a chance to feel the mesmerizing effect of the blend of two cultures, which can be seen in every detail.
The venue for EdCrunch 2021 in Almaty will be announced soon.
Offline

Online

Blended format
Thank you for your interest!
Our speakers about

the conference
We do not encourage the use of advertising or brand-centered descriptions. If you would like to promote your brand on EdCrunch 2021, please email us - we will contact you to discuss the details.